Brawlhalla, a free-to-play online platform fighting game, is hosting their World Championship on Twitch. BCX (Brawlhalla Championship Expo) takes place in Atlanta Georgia at the Cobb Galleria, and boasts a $50,000 prize pool.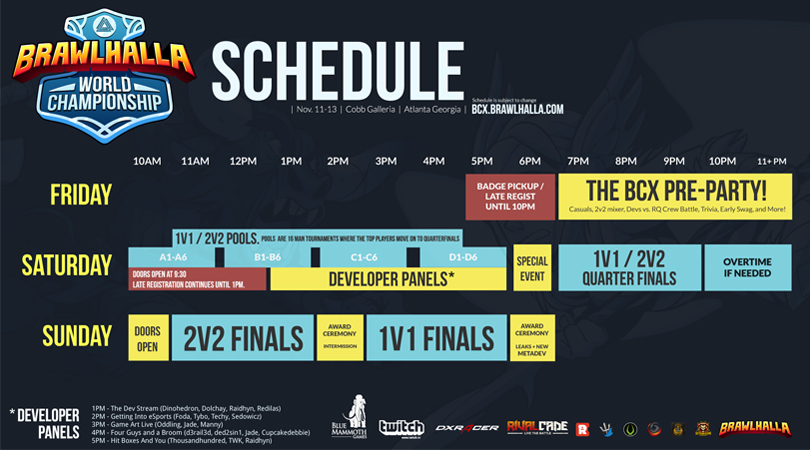 The expo is more than just the championship, though, there will be an abundance of things to do at BCX.
The Championship is only a part of what we'll be doing all weekend. There will also be:

Developer panels and talks on topics ranging from Brawlhalla art design to gameplay programming and balance.
Mini-tournaments, BCXtras, and other opportunities for casual players to win prizes.
Free swag when you buy a ticket, official merchandise, and lots of goodies.
Plenty of space to hang out with your friends and favorite players.
Developers walking around everywhere so you can talk with us in person.
Cupcakes. Cassidy's Cupcakes.
The best players and most popular streamers from around the globe.
Tons more for competitive and casual players alike.
The BCX stream begins Nov. 12 at 10AM EST on the Brawlhalla Twitch Channel. Check out more information about BCX here.