It's safe to say PLAYERUNKNOWN is killing it at E3 2017. They've announced PUBG will be exclusive to the Xbox One family and also introduced a new zombies mode that was inspired by the community.
Last night they held their E3 2017 mixer and the atmosphere made you feel you were actually in game. There was a wall of replica loot that showcased guns and accessories, custom t-shirts, and a super cool 360 camera that you could squad up with friends for a panorama capture that could be shared on social media.
Along with the replica loot they also had a Dacia that party goers could pose and take photos with their friends. The Dacia included normal wear and tear that would you see in game.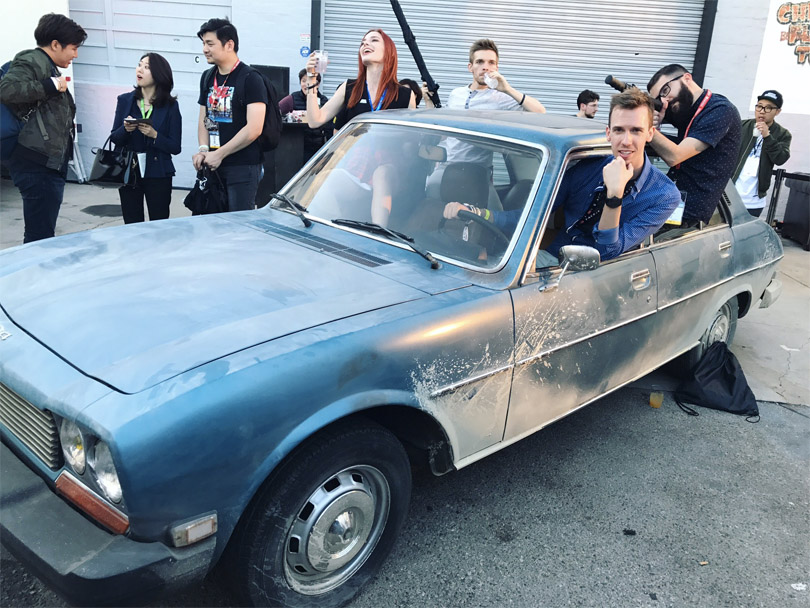 Our favorite would have to be the chicken dinners they handed out as snacks and Lead Community Manager poopieQueen who was in attendance via an iPad that strolled around the party as she controlled it at Bluehole's headquarters.
Maybe the best chicken I ever had at PUBGs party. WINNER WINNER. pic.twitter.com/53CaLjhoFe

— Spamfish (@Spamfish) June 14, 2017
Nailed it! Got a selfie with @poopieQueen And @JaredFPS At the @PUBATTLEGROUNDS VIP #E3 party #PUBGXE3 pic.twitter.com/xLurnCu5id

— Dz at #E3 (@DzLiveTV) June 14, 2017
For those who weren't in attendance take a look at some of the photos below, this might be one of the coolest mixer parties we'll see at E3 2017.
Like finding a Suppressed AWM with 15x Scope. #PUBGxE3 pic.twitter.com/qczEfzsoLG

— Seeson @ E3 (@seeson) June 14, 2017
Squad goals @StodehTV @missellacronin @GeckoTH @PUBATTLEGROUNDS @BattleRoyaleMod pic.twitter.com/vEIpvluvo8

— TAG @ E3 (@2AngryGamers) June 14, 2017
At the @PUBATTLEGROUNDS @E3 party!@punjistickgg and I found a ride! #E32107 pic.twitter.com/2CjtvvnheA

— SIEFE @ E3 (@Siefe) June 14, 2017
Enjoying my chicken dinner! #PUBGxE3 pic.twitter.com/MObDVyfwD8

— [email protected] (@jayxintel) June 14, 2017
#PUBGxE3 Mixer… pic.twitter.com/R15qNxD310

— PLAYERUNKNOWN @ E3 (@BattleRoyaleMod) June 14, 2017
WHICH ONE DO I TRY #PUBGxE3 pic.twitter.com/IrplrxF1n4

— littlesiha @ E3 (@littlesiha) June 14, 2017
" @VioTCZ don't miss this shot girl." @VioTCZ @ashleeeeean #PUBGxE3 Party @PUBATTLEGROUNDS pic.twitter.com/yoGU5TpgXe

— Brandon Stennis (@UGRGaming) June 14, 2017
Squad goals 🚙#PUBGxE3 pic.twitter.com/SrSq0BQHEb

— RΛZΞR @ E3 (@Razer) June 14, 2017