For those who want to Cheer alongside their favorite Twitch Broadcaster but don't have the funds to do so, you can now watch ads to earn Bits on Twitch!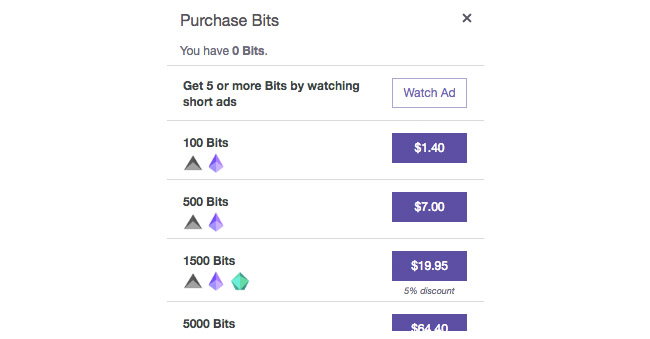 Click the Bits icon in chat to bring up the menu. On the top there will be an option to watch an ad for Bits.
In this case, the activity is watching a 30-second ad.
Watch a 30-second ad, and receive your free Bits! Most viewers will get 5, but a lucky few will get 25 or even 100.
For those who feel it sucks having to watch a 30 second ad in order to earn Bits, think about this. It's only 30 seconds, and Twitch is giving you a free way to interact with chat and the broadcaster.
If you are strapped for cash, but still want to support your favorite broadcaster, now you can. Please note that this is a feature for select accounts. This will eventually be rolled out to all users.
via help.twitch.tv
Update: October 6th 2016
Nero here. I work on the Bits and Cheering team at Twitch. Long time lurker, first time poster 🙂

This is an experimental feature we are trying out, so it's only going to a small portion of users. Twitch Prime does not enable the feature.

Stay tuned for more information as we are preparing to roll this feature out more widely Soon™

As always feedback is appreciated!

via reddit